Devox Software: A 5-Star Offshore Software Development Company According to Clutch.co
Are you considering a software or web project that's beyond the reach and expertise of your current team? Chances are, you've thought about outsourcing your project to a software development company. As with any third-party vendor relationship, there are risks and benefits involved. You can stand to save a lot of money in the short term and long term by hiring outside developers — not only do you avoid the costs of doing business locally, you also save time by not having to hire, train, and onboard a new employee.
On the other hand, there can be downsides to not having a developer right there in person whenever you have a new task, idea, or question.
If you work with an unseasoned team with minimal experience, that will be the case. That's why it's so important to work with a team of experienced professionals who will balance the quality of work and communication you need at the price you can afford.
Meet Devox Software, a reliable outsourcing provider from Ukraine listed among the top software development companies around the globe. We offer tried-and-true resources for whatever development project — be it web, mobile, or software — or IT services you need, whenever you need them. We've been vetted by our customers: they're the reason why we're one of the top programmers in Ukraine according to the B2B reviews agency Clutch.
You'll also find us among the leading agencies around the world on The Manifest — the buyers' resource for choosing a B2B agency — because of our proven software development expertise.
One of our clients is a Swedish influencer marketing agency. They were in need of an upgraded CRM and customer portal with added functionality. We gave them a complete team of 15 frontend and backend developers. Our client treated our resources like an in-house dev team, leading them with their own project manager and Scrum master.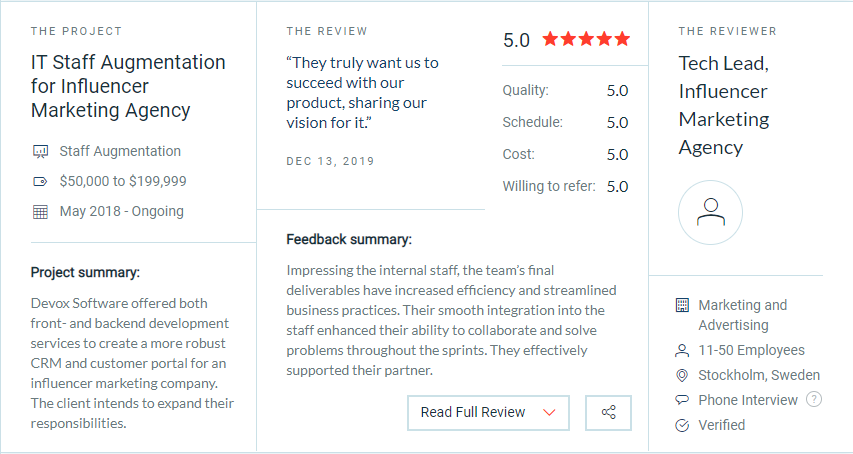 Our solutions arrived on time and met the agency's needs and standards of quality perfectly. The client's business is running more smoothly as a result, and we continue to work together to make their technology run even more seamlessly.
"Because we have solid communication, we can solve problems together rapidly … If you have a good line of communication with them, you can balance their expertise with your vision to get a solid product." — Tech Lead, Influencer Marketing Agency.
John Boman, Product Manager at Lexplore, was looking for UI/UX design solutions for his EdTech startup. He hired 2 designers who specialize in user experience and user interface. We made a project estimation and provided him with wireframes.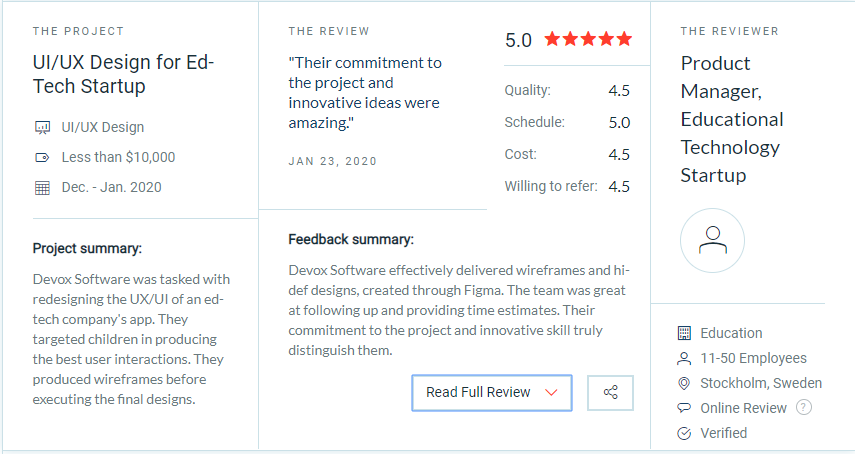 "We hired the Devox team for a complicated (unusual interaction) UX/UI assignment. The team managed the project well both for initial time estimates and also weekly followups throughout delivery. After the first meeting summarized Oleksandra the tasks and estimated the whole project.
This gave a lot of confidence. We initiated the UX wireframes, to the point where we were satisfied. After which, another UI designer completed the design. Overall, efficient work with a nice professional team.
Devox Software effectively delivered wireframes and hi-def designs, created through Figma. The team was great at following up and providing time estimates. Their commitment to the project and innovative skill truly distinguish them."
A FinTech company from Switzerland addressed us to get their website and user interaction of a Fintech SaaS. They needed front-end for iOS, Android and web app so they hired a dedicated team that consisted of 6 software developers and a project manager.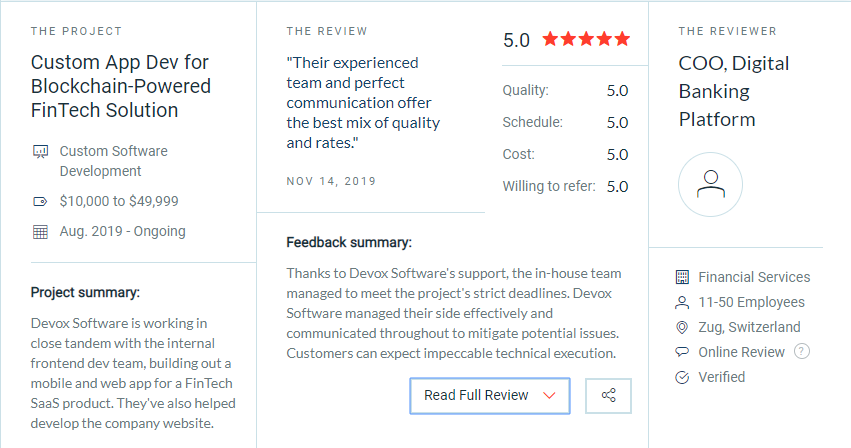 "Great job! We met the deadlines and brought happiness to our customers) It was perfect. The Devox team was managed very effectively. Communication was perfect. Quick response. No problems with anything during the project.
Their experienced team and perfect communication offer the best mix of quality and rates."— COO, Digital Banking Platform
Looking for a trustful partner to outsource software development? Contact us today and we'll work out the best solution for you – choose the best-fitting engagement and pricing models.